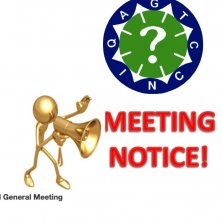 Association General Meeting to gather feedback about future activities.
Event address
Participation via ZOOM
Mansfield QLD 4122
Australia
QAGTC General Meeting
Within all of the COVID actions that have taken place, the supports offered by QAGTC have changed significantly. We are a community based organisation; what happens when the community is no longer able to meet in person?
This meeting for financial members is provided to gather information about services and activities that QAGTC provides so that we can better support our gifted children in a changing future. 
COME ALONG via ZOOM to add your voice to the discussion about your organisation.
Zoom link will be provided to those registered 2 hrs prior to the meeting time of 2pm.
Cost per Financial member
No Cost
Cost per Non-financial member
Non financial members are not able to attend this meeting
Payment summary
There is no payment required for this event
For more information about this event please email office [at] qagtc.org.au
Bookings
Bookings are now closed (as of 28/08/2021 - 12:00)