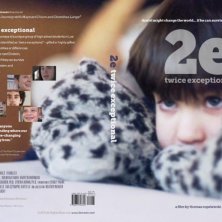 Are you the parent or teacher of a gifted student with learning disabilities or differences? Join us for a screening of '2e : twice exceptional', a film that follows the journeys of students like yours.

There will be time for general questions and an informal discussion following the film.
Event address
Kenmore Library, 9 Brookfield Rd (enter via lift)
Meeting room 2
Kenmore QLD 4069
Australia
Bridges Academy is in an American school set up to provide optimal outcomes for 2e students.  This film follows the journeys of select students who attend Bridges. Parents, students and staff provide insights into how a strength based approach transformed their experience of education. 
While we may not have a school like this in Brisbane, there are key themes and ideas that emerge from this film that we can implement in our own contexts. This is an uplifting and hopeful film that is must see viewing for the parents and teachers of 2e children.
Cost per Financial member
Free
Cost per Non-financial member
Free event
Payment summary
This is a free event for all members and visitors
For more information about this event please email west [at] qagtc.org.au
Bookings
Bookings are now closed (as of 08/03/2021 - 17:00)