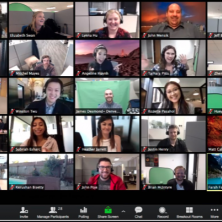 With the new school year now underway, it's a great time to tune in, share your story and connect with other parents of Gifted & Talented Children.
Event address
Via Zoom Link (to be provided)
Gold Coast QLD 4000
Australia
Gold Coast members and friends are invited to join us for an informal evening chat where you can meet your committee members, share your story, and chat to other parents about their experiences. We look forward to meeting you!
QAGTC is a not-for-profit member-funded volunteer-based association relying on public support. The opinions expressed during this event by presenters and by QAGTC volunteers are those of the individuals concerned and not necessarily of QAGTC. This meeting will not be recorded and will not be shared more widely than with attendees. Parents concerned about confidentiality are invited to register using a pseudonym if they wish.
Cost per Financial member
$0
Cost per Non-financial member
$0
For more information about this event please email office [at] qagtc.org.au
Bookings
Bookings are now closed (as of 02/03/2021 - 21:00)