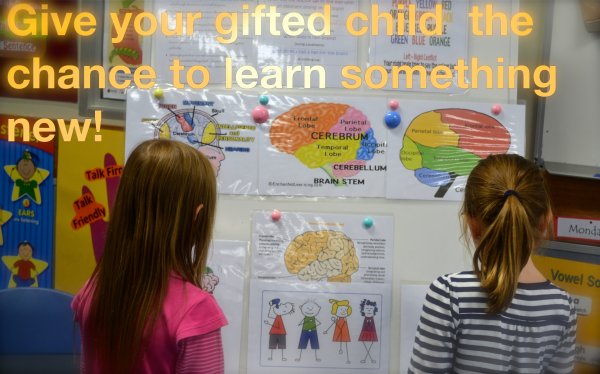 Challenge 2018: Workshops for the Gifted
When: Tuesday 3rd July and Wednesday 4th July
Where: Our Lady's College, Chester Road, Annerley
Challenge 2018 is an exciting two-day program of challenging activities designed for students from Prep to Year 8 who are seeking extension beyond the regular school curriculum.
Registration 3 and 4 July between 9 am and 10 am
Sessions Start 10:15 am - Finish 3 pm
Pick Up children from Registration area 3pm 
Children must be signed in at Registration in the undercover area each day and signed out on the Class role with the Workshop leader between 2:55 and 3 pm again in the undercover area.
Children bring their lunch with them and a hat and water bottle plus the requirements for their workshop activity.
Parent talks Scheduled for Tuesday and Wednesday.
No registration necessary. Be at Registration Desk 10:15 am.
A cup of Coffee/tea and biscuit will be provided but there is no provision for lunch. Lots of great coffee shops and eating places close by.
Tuesday 10:30 am to 11:30 am : Michele Juratowitch, Clearing Skies, Social and Emotional Wellbeing of Gifted Children
Tuesday 1:30 pm to 2:30 pm: Anthony Stevens, QAGTC President, Liaising with Schools and Teachers about the needs of your Child
Wednesday 10:30 am to 11:30 am: Michele Juratowitch, Clearing Skies, Happiness "I just want my child to be happy" many parents claim.
Wednesday 1:30 pm to 2:30 pm: Anthony Stevens, QAGTC President, Liaising with Schools and Teachers about the needs of your Child
All workshops offered are fast-paced and rigorous, and involve challenging activities pitched at individual abilities rather than chronological age. This is a wonderful opportunity for students to step up to a challenge, to meet other children of like minds and to establish new friendships. The workshops are presented by leaders with a keen interest in gifted education—experts in their field—who design programs to stimulate the interests, abilities and curiosities of gifted children.
Workshops run between 10 am and 3 pm.
Registration is from 9 am each day.
Parents do not attend the workshops with the children as they are fully supervised.
Children bring their lunch with them and a hat and water bottle.
Registration costs:
Non-members - per child per day  $77 each
Current financial Members  - $66 each day
Members registering 2 children on the same day - $55 per child per day.
Please note: the reduced pricing for 2 children on the same day is for financial QAGTC Members.  If you want to pay membership - Family at $66 - at the same time as the registration then you can register at the membership rate.
The first link below displays the workshops available on Tuesday 3rd July or Wednesday 4th July or both as some workshops are run over the 2 days.
The second link provides a description of the workshops.
Instructions for download depend on software, browser and computer.  You want options 'open link in a new window' or 'Save Target As". Right click the mouse and see if that option is available. Save the document to your computer.
To register for Workshops the first step is:
Download the document and save it to your computer.
Hover the mouse cursor over the document you want to download - Right click your mouse button and choose Save Target as and download the document saving it to you computer.
1. Choose the Password Protected version (Challenge-2018-Passworded.pdf) to send your completed registration with a degree of security if you are paying by credit card. The password for the secured document is qazx
2. If you are using the standard registration form select the Challenge-2018 Registration.pdf. This may be suitable if paying by EFT.
Open the document you have downloaded and saved to your computer in a quality pdf reader such as Adobe PDF Reader or similar.  Complete the document and resave to your computer. Email the completed document to office @qagtc.org.au attaching the saved completed registration form.
If you prefer to complete by hand then print out the fillable form and complete the form manually, remembering to write neatly and either scan the completed form and email it to office [at] qagtc [dot] org [dot] au or post to Challenge 2018, PO Box 2311, Mansfield DC 4122 with your payment.
All enquires by email to office [at] qagtc [dot] org [dot] au