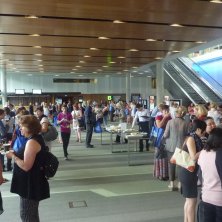 The Queensland Association for Gifted and Talented Children
27th State Conference
Friday 15th March and Saturday 16th March 2019
Venue: Brisbane Convention and Exhibition Centre

Conference Program 15th March and 16th March available.
Address
Grey Street
South Brisbane QLD 4101
Australia
Click to Program for Friday 15th March 2019
Full day workshop with Bronwyn MacLeod for Teachers, Parents and Educators
A Full Day Practical Workshop for Teachers, Counsellors, Educators and Parents
Click to Program for Saturday 16th March 2019
Keynote by Dr Leonie Kronborg
Teachers of gifted students who are motivated to make a difference: What can be learned from experienced teachers' teaching and learning experiences?
Keynote by Tony Ryan
Gifted 2025: The Extraordinary Possibilities
Keynote by Dr Susen Smith
Scaffolding underachievers to achieve: Promising practices to promote potential into performance
Concurrent Speakers
 
Leonie Kronborg
Bronwyn MacLeod   
Carol Barnes   
Tony Ryan 
 

Geraldine Townend

Annettte Ryan
Michelle Juratowitch   
Barry Dean
 
Frances Hoyte
Susan Stevens

Anthony Stevens

 Mirella Olivier

 
Registration costs
| Days | Members | Non-Members |
| --- | --- | --- |
| Friday only | $264 | $319 |
| Saturday only | $231 | $286 |
| Both days | $418 | $473 |
Online booking payment by Credit Card or Bank transfer.
Purchase tickets